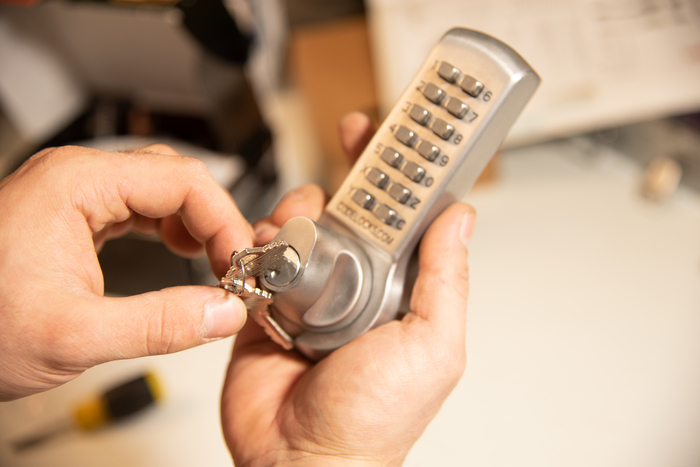 Whether you own a small business, a large corporation, or are part of a large industrial complex or apartment complex, you will want a key system that is effective and, most importantly, secure. One of the best ways to achieve this is through a restrictive or master key system.
What is a Master Key System?
A master key is a special key that is created to give you access to more than one door or lock within your organization, property, or company. Master keys usually are only offered to two people with the highest level of security at any specific location.
For example, if you own an apartment complex, the owner will hold the master key. In a restrictive key system, the maintenance supervisor may also have a master key or a special restrictive key that opens all or at least most doors in the entire complex.
Other maintenance workers, tenants, and staff would not have access to the master key or a special restrictive key. Tenants would have a key to their apartments and any open areas for all residents to enjoy. These areas can include patio spaces, swimming pool areas, or gyms on the property.
A master locksmith creates master keys, and only that master locksmith can create another key if the master key is lost or stolen. They can only create keys at the direction of the property owner that had the key created in the first place. This single-key method is much easier and simpler to keep track of and will keep lower-level employees or tenants from having access to areas they should not be able to enter.
Only a few people in any given business, organization, or property can access a master key or a special key within a restrictive key system. This brings us to whether a restricted keyway lock can be picked or duplicated at a hardware store or other place that creates keys.
Can a Master Key be Duplicated or a Lock be Accessed?
Restricting keyways cannot be picked by anyone and cannot be duplicated at places like hardware stores or big box stores such as Home Depot or Menards. Restricted keyways are designed so that only a specific locksmith who created the original key can duplicate it.
This system is designed to prevent the unauthorized duplication of keys. This means that a person who needs to get a restricted key or lock duplicated must show ID and be on the keyway authorized user card list.
How Do Restricted Keyways Work?
Restricted keyways are created specifically for the business owner or homeowner. A specific keyway in the lock of doors, safe, and other areas of our property can only be duplicated by the licensed locksmith that created the keyway in the first place. You cannot get them copied at a regular store that makes keys.
At Express Locksmith, a master key system can be created for your home, business, or other properties so that only the people with the highest level of access can obtain one. This is important in keeping your business or home secure and safe for others.
How To Duplicate a Restricted Key
If you need a duplicate restricted key or master key, you will need permission from the owner to duplicate the key. If you are the owner, you must have proper documentation that proves that you are the owner and can have the master key duplicated. You will need to take this permission to the original locksmith who created the master key or a dealer authorized to duplicate this type of key made by the original locksmith.
The locksmith that creates the duplicate key will have to have specific sets of information, including the formal permission for duplication, the number of copies of keys that you need, and other information before they can produce the duplicate copies of the keys and record the process of the duplication.
The master key technicians at Express Locksmith have the knowledge, skills, and equipment to provide an effective master key system to keep your property, business, or home safe and secure.
What is Express Locksmith?
The master key technicians and locksmiths at Express Locksmith have years of experience creating master key and restricted key systems for area businesses, homes, and other properties.
Express Locksmith is nestled in the big city of Houston, Texas, and serves all surrounding areas, such as Rayford, Shenandoah, The Woodlands, Sleepy Hollow, Egypt, and Aldine.
The company offers a variety of services, including:
Key programming and replacement
Commercial locksmith services
Automotive locksmith services
High-security locks
Residential locksmith services
Emergency locksmith services
Lock change and re-keying
Key cutting, duplication, and replacement
Master key systems
Mobile locksmith services
Contact Us
If you want and need the peace of mind, as well as the convenience, of a master key system for your home, business, or other property, you can call upon the master key experts at Express Locksmith.

Call today to make an appointment to create your own high-quality, safe, and secure master or restrictive keyway system!

Tags: Can You Pick Restricted Keyways, pick restricted keyways


Categorised in: Access Control