24-Hour Locksmith Services in Houston, TX
At Express Locksmith, our name is what we're all about! Count on us for quick lock and key services for your home, business or automobile. Our team is available 24/7, regardless of the timing or circumstances we are here to help you in your time of need. Call us for lockouts, master key systems and more, 24 hours a day. We're always available, no matter the situation.
Automotive Locksmith Services
Being locked out of your car can be unsafe and frustrating, but it is something that can happen to anyone. What you need in such a situation is a reliable mobile locksmith that can provide quick service. For residents of the entire Greater Houston region, Express Locksmith offers a full range of locksmith automotive services.Apart from issues with door locks of your vehicle, there could be a problem with the trunk lock or ignition system. With an ignition lockout, you will not be able to start your car. A trunk can have a jammed lock, which should be no problem for a skilled locksmith.
Other situations that might require assistance from a mobile locksmith include key replacement or repair services. For key fob replacement, Express Locksmith has the technology and skills to repair or replace key fobs. Key fob reprogramming can be done within 30 minutes and an additional mechanical key replacement can be made within 15 minutes.
The price charged by Express Locksmith is going to much cheaper compared to what the auto dealership would charge. Express Locksmith has surprisingly low pricing for auto auction services, and can help improve the efficiency of your operations by providing an on-site, prior to auction or day of auction replacement for electronic or mechanical keys.
Residential Locksmith Services
Whether you are
locked out of your home
or have lost your keys, Express Locksmith is proud to offer 24 hours emergency service. Even if have not lost your keys, it is always a good idea to have a spare set of keys. Losing your house keys can be a security risk and it can leave your home vulnerable to intruders. You should consider getting a free Security Inspection with Express Locksmith, and rekey or replace the locks as soon as possible.We can recommend some of the most reliable locks in the market within your budget and our team will be glad to offer installation services. Also, if you have moved into a new house or apartment, it is a good idea to get the lock rekeyed. You never know who the previous owner gave their house keys to, why take the security risk? Getting the lock rekeyed is a cost effect way to change the tumbler combination of the lock, without having to purchase and install new hardware.
Commercial Locksmith Services
Express Locksmith provides a comprehensive range of commercial services for offices, retail outlets, warehouses, industrial buildings, and factories in the Greater Houston region. Our team is experienced and knowledgeable in a variety of locks and deadbolts used in the commercial environment. Whether you need lost key replacement, new lock installation, duplicate keys, or rekeying services, Express Locksmith is available 24/7 at your service. We are also proud to order periodic maintenance service to reduce the chances of issues with locks.If you are looking for security upgrades, we can recommend the best hardware at budget friendly prices and provide installation services. We provide free Security Inspections. Our team is familiar with common weak spots in the security systems. Intruders or thieves often exploit these weak spots.
Our team can review your existing security system and provide recommendations on how to make it more secure. Some of our clients use digital locking, which must be regularly serviced to ensure the digital system cannot be hacked or malfunction causing loss of money or time to the business.
Master Key Systems
For a certain type of business, it makes sense to have a master key system. If you are landlord, you might be tired of calling a locksmith every time a tenant locks themselves out. For such a situation, you should consider having a master key system. Express Locksmith can provide you with a universal arrangement for the master key system.Typically, such systems have a hierarchy, with keys that offer different levels of access. A master key is used for locks of the same type, and a grandmaster key is used to unlock any locks within a system. Express Locksmith can help you configure a master key system according to your needs. We have installed a master key system for several clients such as storage facilities, apartment complexes, and more.
High-Security Locks
The purpose of high-security locks is to provide a more sophisticated locking mechanism that will provide a higher level of protection from any attempts to break the lock. Certain facilities are required by law or insurer to have a certain level of locking system. If you have a facility that requires a high-security lock, Express Locksmith can inspect your facility and provide a recommendation and installation services.There are several high-security locks in the market, but you need to pick the system most suited to your needs. Our professional team of locksmiths is experienced with vulnerabilities of several locking systems and help you avoid common pitfalls when choosing a locking system. Our prices are very reasonable compared to other competitors and we are proud to offer the best in installation and customer service.
Friendly and Efficient Mobile Locksmith Services
A lockout can happen to anyone, at any time. You rush out of the house without your keys and the door locks behind you. Your child closes the car door with the keys still inside. It's a moment of panic, followed by frustration, followed by uncertainty. What do you do? How can you get out of this mess and back inside, where you belong?
If you're in a lockout situation, Express Locksmith provides the fast and reliable service you need to get it over quickly. We're a seasoned locksmith in Houston, TX, capable of opening just about any lock keeping you out. Call us for home, business or
auto lockouts
and get the peace of mind in knowing help is on the way! We'll pop your lock without damaging your property and can help in a variety of other ways too, including
key duplication
and
lock replacements
. Our mission is to keep you safe and calm, which is why we're available 24 hours a day, 7 days a week. When you call, we come—no exceptions.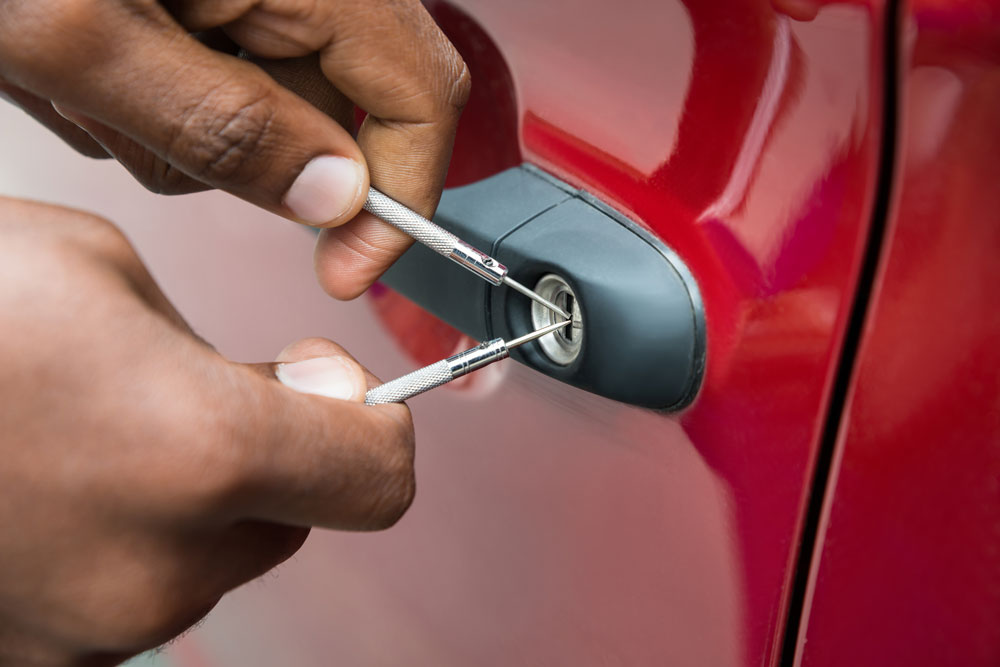 We provide
residential locksmith
and
commercial locksmith
services in Houston, TX, and we stay on the cutting edge of the latest locksmithing technologies. Whether you need a
master key system
installed at your apartment complex or are locked out of your keyless entry can, we strive to answer the call. Let our knowledgeable, friendly locksmiths put your mind at ease and help you stay calm during your lockout fiasco. Before you know it, you'll be on the right side of the door.
We're available 24/7 for our customers, wherever and whenever you need us. Day or night, we answer your call to come and unlock your doors.
We're accredited with the American Locksmith Association (ALA) and a fully licensed and insured company. B-07357401.
Our locksmith abilities extend to all residential and commercial properties, as well as vehicles. There's no lock we can't service!
We're always expanding our accreditations and capabilities. Recently, we begun the process of acquiring certification as an automotive locksmith for Mercedes and BMWs.
We treat every customer with kindness and understanding. We know you don't want to be in the situation you're in, so we work hard to alleviate your stress.
Licensed and Insured B-07357401
Locked Out? No Problem!
If you're locked out of your home, business or vehicle, waste no time in calling Express Locksmith. We'll act fast to resolve your situation and keep your frustration to a minimum!