At Express Locksmith, we are one of the leading commercial locksmiths in the Houston, TX area. We take great pride in the diverse array of services that we provide to our clients. We know that if you get locked out or have other locksmith needs, that you expect them to be addressed as quickly as possible. At our commercial locksmith company, we are here to help you with any and all of your lock questions or concerns. Take a look at our services below!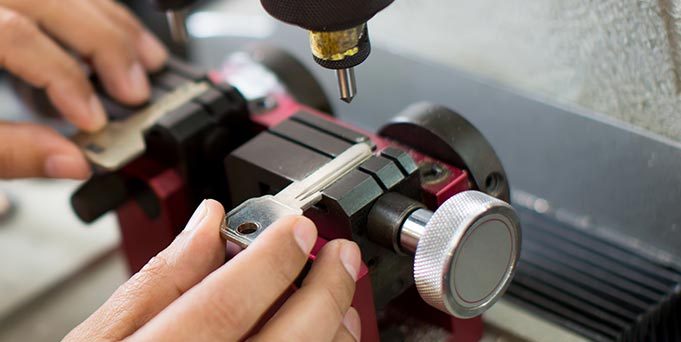 24-Hour Commercial Building Lockouts
If you have gotten locked out of your commercial building, we know that this can create a sudden and deep feeling of stress, fear, and frustration. If this has happened to you, we understand that there might not be a worse feeling in the world. It is important to not panic and remember that Express Locksmith can help you in the Houston, TX area.
By giving us a call, we will arrive quickly to help you with your commercial building lockout. As a local locksmith, we handle these situations on a daily basis. We have the training, education, and experience required to make sure that we can get you back into your building easily. We have the tools necessary to pick your lock and get you back inside. Sometimes, we even get told that people were surprised at how easy it was! Remember not to panic. We do this for a living and we would be happy to help you if you get locked out of your building as well!
Key Duplication
If you need key duplication services, then we can help you with this as well. We have expert technicians that use the latest tools when it comes to key cutting and duplication. We are fully bonded, completely insured, and have the right licenses, so you know that you can trust us! Some of the services that we provide through our key duplication team include:
Duplication of keys for your office staff, employees, and business partners
Copying office door keys for safekeeping
Standard double-sided car keys for your commercial vehicles
Copies of transponders for your commercial vehicles
Laser-cut keys for commercial services
Cloning of remote keys for your buildings and vehicles
Programming extra key fobs for those who need them
When it comes to key duplication services in the local area, we are here to help you with everything you need. If you would like to learn more about our key duplication services, give us a call! We would be happy to address all of your questions and concerns.
Lock Replacement
If you need to have your locks replaced, we can help you get the job done quickly. While you might be thinking about installing them yourself, it is always better to let a professional handle this for you. A trained professional, like someone from our Houston, TX team, can get the job done quickly and easily. Remember that even the best lock is only going to work well if it is properly installed.
That is where our professional locksmiths can help you. We have a trained team that has been helping business owners choose the right locks for their needs from day one. We are even a mobile locksmith service. This means that we travel with all of the equipment and tools we need to complete your lock replacement job according to a schedule that works best for you. We always place the needs of our clients ahead of our own and we would be happy to do the same for you. If you would like to learn more about our lock replacement services in the Houston, TX area, then give us a call today!
Rekeying
---
If you have locks that you need to have rekeyed, then we know that this is a major concern. We want to make sure that we handle this task quickly. Rekeying is simply taking the inside parts of the lock and changing them to work with a new set of keys. Some of the reasons why you might need to have your commercial locks rekeyed include:
You have recently dismissed an employee and want to ensure the safety of everyone there
You have recently purchased a new property and moved to that location
You have lost your keys and had to get a new one
You just built a new building and need to get keys made for it
No matter what the reason might be, we can help you address this concern quickly and efficiently. Contact us today to learn more about our services! We are here to help you!