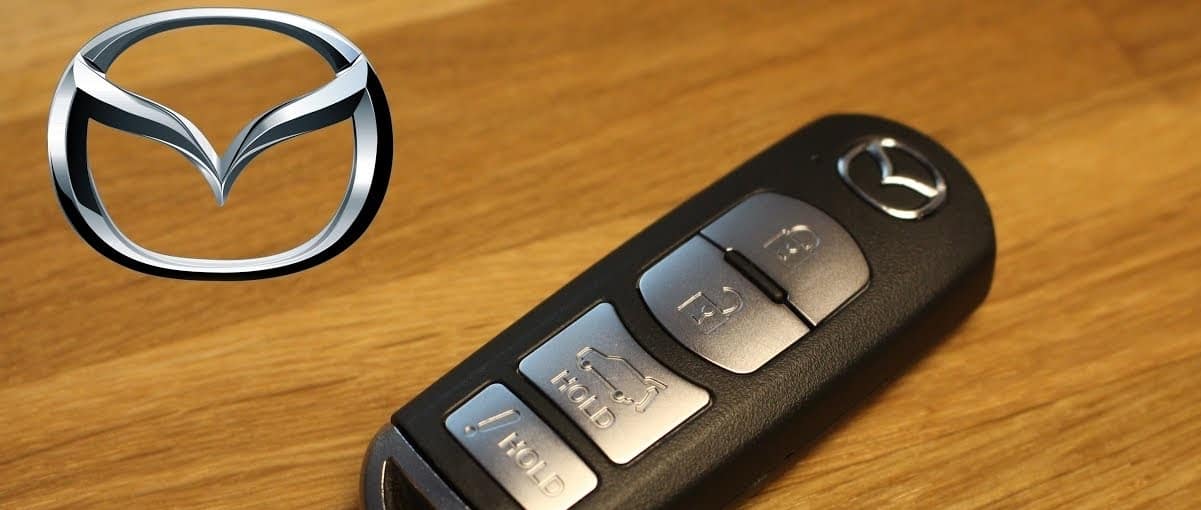 Your Mazda key fob has stopped working. You can't find your keys anywhere. All sorts of emergencies can happen — and they can leave you feeling stranded. It's important to know how to deal with a Mazda key replacement – and at Express Locksmith Houston, we have the trustworthy professionals to help you with everything from a battery replacement to a full Mazda key or key fob replacement.
Depending on the year, model, and trim of your Mazda, you may still have a key that you place in the ignition. Then again, you may only have a keyless fob that is programmed specifically to your VIN. Regardless of what you have, you need it working and in your possession. If there's an issue, you can call us knowing that our knowledgeable locksmiths can be dispatched to help you right away.
Mazda Key Replacement
There are countless reasons why you might need a Mazda key replacement. You lost your key, your key broke inside of the ignition, or you gave your spare key to someone you no longer talk to.
Depending on whether you know where all remaining keys are, we can program a new key or provide a full replacement so that no one with your old keys will be able to start your car.
Regardless of how old or new your Mazda is, we'll be able to help. Most importantly, we work fast so that you're not without your keys any longer than what is absolutely necessary.
Can I Replace the Batteries in My Mazda Key Fob?
Absolutely! The battery in your key fob is only going to last between one and two years, so it's likely that you'll need to replace it several times throughout the life of your Mazda.
When your battery starts to die, you'll get a reminder on your dash. It will tell you that the key fob battery is low and tell you that you need to hold the key closer to the start button.
When this warning shows, you may only have days left to make the replacement before it dies entirely.
Different fobs have different approaches in terms of replacing the batteries. You'll want to read through your owner's manual to learn about the proper procedure. Additionally, you'll want to make sure that you have a button cell battery (typically a CR2025).
As you start the process, you'll want to make sure that you are extremely careful. Otherwise, you can scratch the fob and even cause damage.
If you can't replace the batteries on your own (or you simply don't want to try), you can call us. Our friendly locksmiths in Houston will take care of the battery replacement quickly and affordably.
And, if it's not the battery that is causing the problem, we do offer affordable Mazda key fob replacement services, too.
How Much Does a Mazda Key & Key Fob Replacement Cost?
The cost of a Mazda key and/or key fob replacement can be several hundred dollars, especially if you visit a dealership. There's no reason to pay that – and at Express Locksmith Houston, we're committed to finding you the most affordable solution.
There are a few reasons why it will be more expensive at the dealership:
They use OEM parts
They have high labor rates
They offer a full "experience" while you wait at the dealership
We can provide fobs affordably. Then, we provide the programming so that the fob works with your particular Mazda. We'll simply need your VIN and proof of ownership before we complete the programming.
With the help of one of our Houston technicians, we can ensure your key is manufactured, your fob is replaced and programmed, and you have what's needed to operate and secure your Mazda once again.
Replace Your Mazda Keys or Key Fobs with Express Locksmith Houston
It is a bit more complicated to replace Mazda keys when they have more technology – such as features that lock and unlock your car remotely or even remote start. These "smart keys" contain a chip of them. While many locksmiths cannot provide a replacement on a smart key, we can – and it's because we have experienced locksmiths.
Whether you need a key replacement, a fob replacement, or both, we look forward to helping you. We help with everything from Mazda key replacements to ignition lockouts, and more.
We're available 24/7. When you find yourself in need of help with your Mazda, call us at (832) 690-1640 so that we can come out and help.