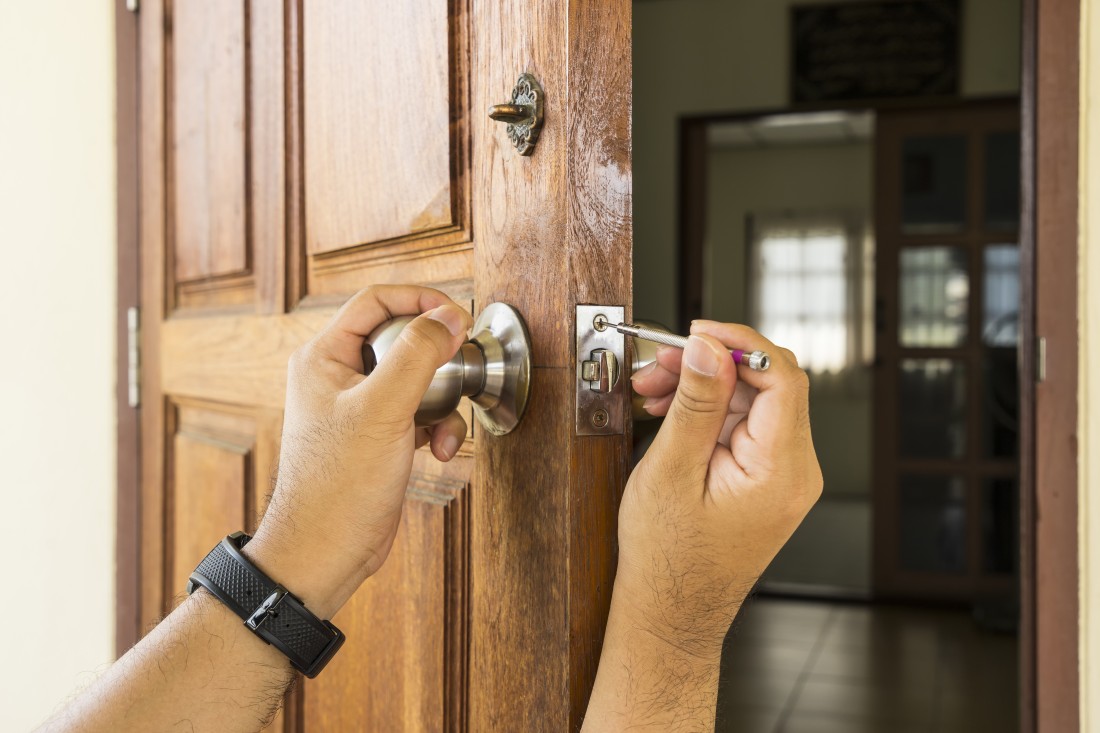 There are a variety of reasons why you may need to call a locksmith. You may need to call Express Locksmith for emergency services if you've locked yourself out of your house. Locksmiths have undergone specific training to be able to change a lock or rekey one so that you can gain entry to your home or business. This also applies to vehicles and other things you may be locked out of. A locksmith's services do come at a price, but how much does it cost for a locksmith to unlock a door?
The Average Cost for Locksmith Services
If you're locked out of your house, apartment, mobile home, condo, or another place in which you live, a locksmith can save the day. The average price for a locksmith to unlock a door for you is between $100 and $250. Some charge up to $400 to unlock a door. If you want a complete home security system installed at your home or business, you should plan on spending up to at least $1,800 for a locksmith's services.
The amount a residential locksmith charges to unlock a door can also vary by the time of day you need one. For example, if you work the second shift and come home at midnight only to realize you locked your keys inside your house, you will pay more for locksmith services since it is after regular business hours. Most locksmith companies offer 24-hour emergency services, which are great when you need them late at night, but you can expect to pay more for their services during those hours.
It's a good idea to leave a key with a neighbor, trusted friend, or family member so you can have a spare key to your house if you like yourself out. This only works, though, if that person is available when you need them. The great thing about locksmith services is that they are available 24 hours a day, seven days per week.
You can also attempt to pick the lock on your house or business door to gain entry, but you will still need to call a locksmith the next day to replace the lock you've now damaged. It could save you some money if you do not need to call a locksmith at night to come out to your home or business.
Remember that locksmith services may cost a little more at your business than at home. Many locksmith companies charge more for commercial lock jobs than residential ones.
Is Rekeying or Replacing Locks Cheaper?
If you have completely lost the key to your house and there is no spare key available, you may need to have the lock rekeyed or replaced by a trusted locksmith. If a locksmith rekeys the lock on your house, you will be charged an average of $40 and $100 for this service. For a new lock to be installed, you can expect to pay between $50 and $300. This is because it will take the locksmith longer to replace the entire lock, and you will have to pay for the new lock.
Remember that a locksmith's charges will depend on the type of lock you need to replace, the type of lock you want to use in the replacement process, and how many locks you need to have changed overall. This goes for businesses, too, although the charges tend to be higher in the first place since it is a commercial property.
If you decide to have a lock replaced at your home or business but you're not sure what type of lock you should choose, a trusted and experienced locksmith will be able to recommend the best lock for the job at hand to keep your home or business secure and safe.
If you move into a new home or open your business in a new building, it's a good idea to call a locksmith for lock changes and rekeying. This is simply an added level of security since you will not know how many people have keys to the old locks in place when you bought the home or building. This is a good way to protect yourself, your loved ones, your valuables at your home, and your inventory if you own a business.
All About Express Locksmith
Situated in Houston, Texas, Express Locksmith offers locksmith services to various areas in and around Houston. These areas include Dobbin, Cypress, Spring, Bobville, Sleepy Hollow, and the Northside Houston.
The company has provided locksmith services to residents and businesses throughout Houston for many years. The highly trained and skilled locksmiths at Express Locksmith offer various services, such as residential and commercial locksmith services. They also offer automotive locksmith services, high-security locks, and master key systems for businesses.
A lockout can happen to anyone at any time. The locksmith technicians at Express Locksmith are experienced, and we'll come to you wherever you are when you are locked out of your house, business, or vehicle. They will provide you with high-quality service that is fast and reliable at any time of the day or night since the company offers 24-hour emergency locksmith services.
The locksmith professionals at Express Locksmith can handle any lockout situation and all types of key systems. The highly skilled technicians know how to pop a lock without causing any damage to your property and can help you out by creating duplicate keys or replacing or rekeying the locks of your home or business. Even if you need a new key fob created for your apartment, vehicle, or other locks, the highly skilled technicians at Express Locksmith have you covered. Contact us today for service!

Categorised in: House Lock, Residential Locksmith