Lincoln key fobs have grown increasingly more advanced over the years. Some have a key included. Others allow you to have keyless ignition so that a fob simply has to be inside of the car.
There are keys, fobs, and keys with fobs that are embedded in them. It's important to know what kind of key or fob replacement you need to ensure that we provide you with what you need. And, with Lincoln changing their designs every few years, it's critical to provide us with the model year of your vehicle when you call to schedule a service.
Some fobs will allow you to pop a trunk, sound an alarm, lock and unlock the doors, and even remotely start the car.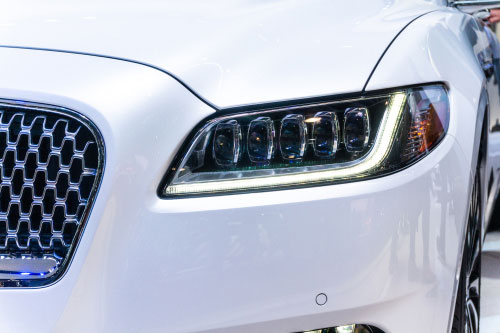 When you need a Lincoln key fob replacement, it's critical that it is professionally programmed – and that's what our locksmiths can do for you at Express Locksmith Houston. We'll review that you own the vehicle before we do any programming – and we'll work expertly to get your key fob ready for you to use.
We use OEM Lincoln keys and use state-of-the-art programming that you can depend on. We even provide our services to various dealers in the area.
Can I Replace the Batteries in My Lincoln Key Fob?
Essentially, all you need to replace the batteries in your Lincoln key fob is a replacement battery as well as a flat-tipped screwdriver.
Most of the time, a key fob battery will last between three and four years. However, if you leave the fob inside of the car or close by, it can cause the battery to die faster.
The average Lincoln model will use a CR2032 battery inside of the fob. When you replace the battery, you'll just want to be careful not to scratch or damage the shell. This is why many people prefer to let a professional help with the fob.
Additionally, the DIY process is dependent on you having a replacement battery. If you're at work and suddenly find that your fob is dead, you may not have the means of going anywhere to get a battery. And, many modern Lincoln models don't provide you with a key – only a fob will get the ignition turned.
If you find yourself in need of a battery replacement, you can call us to come out and provide a fast and easy replacement for you.
How Much Does Lincoln Key & Key Fob Replacements Cost?
Replacing a Lincoln key or key fob is going to depend significantly on the model year of your Lincoln. Older model keys are easy to replace simply because a key needs to be cut. As soon as you get into the modern keys, they require advanced computer programming.
You can always go to a Lincoln dealership for a key or key fob replacement. The problem with this is that you may pay hundreds of dollars because the technicians don't handle fob reprogramming very often. They take longer to complete the service and they charge you by the hour.
When you call us, we'll work quickly and offer competitive pricing. We'll use a genuine OEM key or key fob and provide all of the necessary programmings to ensure that the key/fob works perfectly just as your old one did.
To get exact pricing for a Lincoln key replacement, call us with the details of your Lincoln model.
Replace Your Lincoln Keys or Key Fobs with Express Locksmith Houston
Whether you need a key or a Lincoln key fob replacement, you can depend on our professionals at Express Locksmith Houston. We pride ourselves on fast dispatch times, professional programmers, and competitive pricing.
Let us make you a backup key fob or provide you with a full lockout service for your Lincoln. We know that your time is precious to you, so we'll work to get to you and get you the keys and fobs you need to get back on the road.
Call us now to learn more about our services and to get custom pricing for your Lincoln.