Today's key fobs are more advanced than ever before. Depending on the model you have, a Lexus Key Fob Replacement may be responsible for unlocking your car, popping your trunk, and even starting your car remotely. If you misplace your key fob, you may not even have the means of driving anywhere.
The good news is that it is possible to get a key fob replacement – and without having to visit a dealership. We can provide you with a replacement fob and ensure that it is fully programmed to your Lexus. We just need to see your ID and proof of ownership so that our locksmiths can take care of this for you.
We use the latest technology and have the high-end training needed to work quickly so that you can get into your Lexus and be on your way with your day.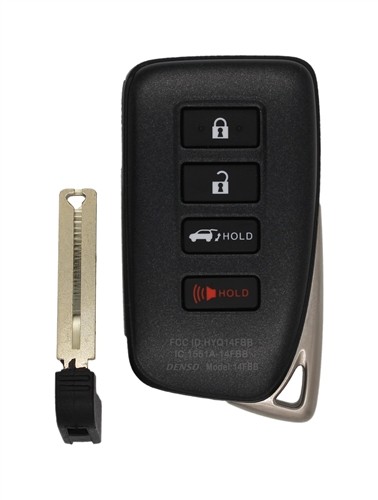 The convenience found in a key fob is not something you want to live without. And when you're ready for us to provide a replacement, we may even be able to add more features within the fob.
Give us a call so that we can learn more about the model year and trim level of your Lexus. From there, we'll send out our advanced programmers to help you with the replacement.
Can I Replace the Batteries in My Lexus Key Fob?
It's not uncommon for the battery to die inside of your Lexus key fob. When this happens, you have a few choices. You can take care of the replacement on your own, visit the Lexus dealership, or call our locksmiths at Express Locksmith Houston.
The average key fob will take a CR 2032 battery. Depending on the age of your Lexus, it may take a different type of battery. Your owner's manual will tell you what battery is needed.
You'll need to pop the shell of the fob open in order to replace the battery. This requires a significant amount of finesse so you don't scratch or break the casing. Additionally, you don't want to damage the circuit board inside of the fob.
Of course, if your fob is what allows you to actually turn the ignition on in your Lexus, you won't be able to go anywhere to get the battery. This is when it can be easier to simply call us. We can dispatch a locksmith to you quickly. We'll change the battery and get you on your way.
How Much Does Lexus Key & Key Fob Replacements Cost?
Lexus keys are advanced because of the technology that is included in them. They do more than many of the other manufacturers on the market. As a result of this, the keys and key fobs tend to cost a bit more when you need them replaced (and programmed).
When you go to the dealership, it's not uncommon to spend several hundred dollars. There are a few reasons for this.
The dealership will use a genuine OEM key and/or key fob
The technicians take a long time to perform the programming
The cost of labor per hour is high due to the upkeep of the dealership
By relying on us, we can provide you with an affordable Lexus key or key fob replacement. Our programmers work on key fobs all day, so we are highly trained. We can perform the repairs quickly, saving you both time and money. Additionally, our mobile business cuts down on overhead, saving you even more.
When you're ready to get a cost estimate on a key or fob replacement for your Lexus, call us with the details of your vehicle now.
Replace Your Lexus Keys or Key Fobs with Express Locksmith Houston
There's one thing you can't drive without – a key or key fob. You may have lost your backup key or you may want to give a second backup key to a family member. Or, you may have even left your one and only key behind in your travels.
Now, you're left with the need for a Lexus key replacement. At Express Locksmith Houston, we pride ourselves on expert programming services and competitive pricing.
Call us now to schedule a Locksmith out to you, wherever you might be in Houston. Day or night, we're here for you.